Zen Sagan battle boardit saksaksi täällä: http://www.kurpfalz-feldherren.de/fotogalerie/samurai-ninja
Ensimmäinen englanninkielinen Zen Sagan Battle board eli samurait täällä
Battle report
Scenario: Zen Saga – battle of Monastery, 5 point game
Players & goals:
Teemu -Ninjas: kill both enemy warlords
Sami: Sohei (warrior monks): secure the pagoda-hill and kill ninjas (double victory points)
Samuli / Antti: Samurai: loot the shrines, double VP for everything that the Samurai Warlord kills
Players didn't know each others goals before the end of the game.
Start
Samurai had to deploy behind the wall, then Sohei deployed close the sacred buildings and finally ninjas could deploy anywhere outside L from enemies.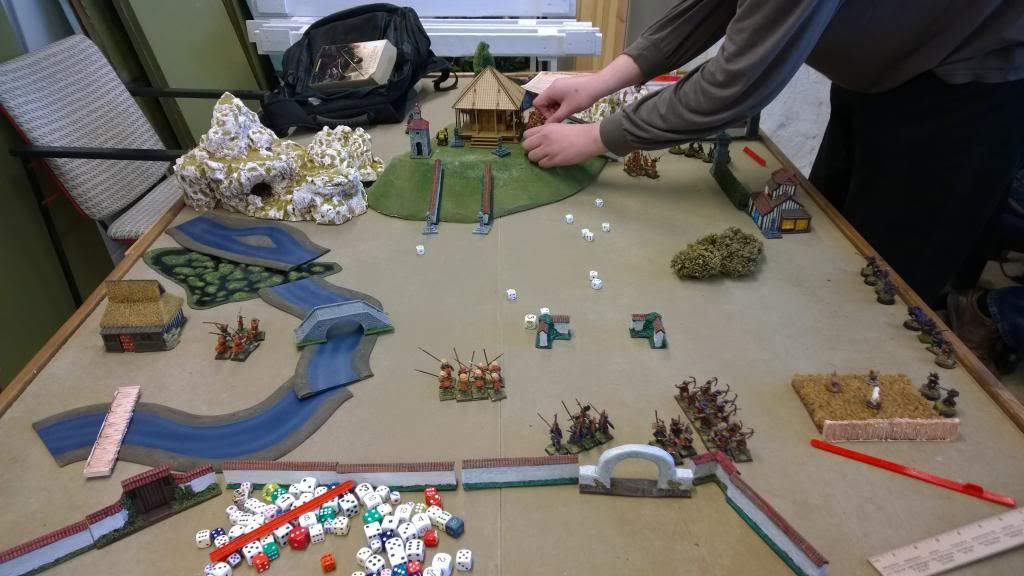 During the first round 8 ninjas and their Jounin focused their shuriken fire and charges against Warrior Monk Warlord and his retinue of 12 warriors. Shurikens cut down several monk initiates, but in the close combat the Sohei warlord proved invincible, slaying several ninjas, while being unscathed himself!
Sohei shooting from the pagoda-hill thinned the ninja-lines even further.
Samurai-forces poured through the gates and the Ashigaru-recrytes loosed a volley agains the closest ninja unit, cutting down two of them: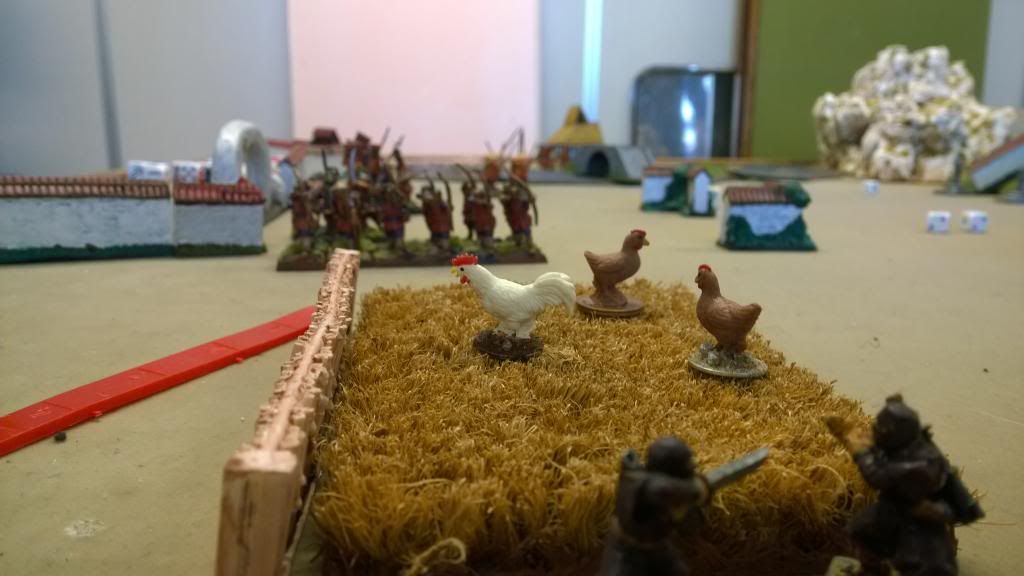 Second round started with the ninjas going first.  They had learned their lessons and changed their tactica to defensive: moonless night shortened shooting and charge initiation ranges to S. Ninja Jounin and  his retinue had a one more go at the Sohei Warlord, which only ended in Ninja Jounin being left standin alone in the front of his enemies – Sohei Warlord once again proving himself invincible! (editors note: Sami used  Seishin ability on both first two rounds agaist Ninja WL's "Obey me" + free action, which was actually illegal, because the ability says "activation with a die", this practically ruined ninjas' changes, but never mind).
In the meanwhile Samurai factions Ashigarus with spears yelled BANZAI and stormed the Shrine island and killed all six monks defending it.
Sohei WL and his troops attacked the lone Ninja Jounin and Teemu damned, he hadn't taken any of the defensive abolities, that would allowed the Jounin to escape from the combat… even then it was a close call, but one uncancelled hit was eventually all it took to slay the Ninja Jounin. Teemu's game was practically over with only three dice to use.
During rounds three and four Sohei started to move down from the Pagoda-hill, since all Ninjas were terminated in the other flank. Samurai forces proceeded to annihilate one more ninja unit by shooting, which ninjas retaliated by making two consecutive rounds of lightning attacks against samurai – wiping out a unit of spear armed samurai.

Antti joined in  around  this time and was quickly briefed by Samuli and then took over the command of Samurai-faction.
Soheis formed a fire base at the bottom of the "stairs" from the Pagoda-hill. Samurais annihilated last full Ninja-unit after the ninja's had attempted a desperate but rather futile assasination attempt on the samurai warlord. Shurikens didn't do it… charge would have been better.
All fired up now, the samurai advanced towards warrior monk firebase and would have charged in… SEISHIN! Sohei shot them with all they got – to no avail. So they had to  counter charge…. and wiped out the samurai unit (which was only 3 strong).
Samurai pushed further with their warlord and ronin warriors and charged the Sohei WL and teppo bearing soheis: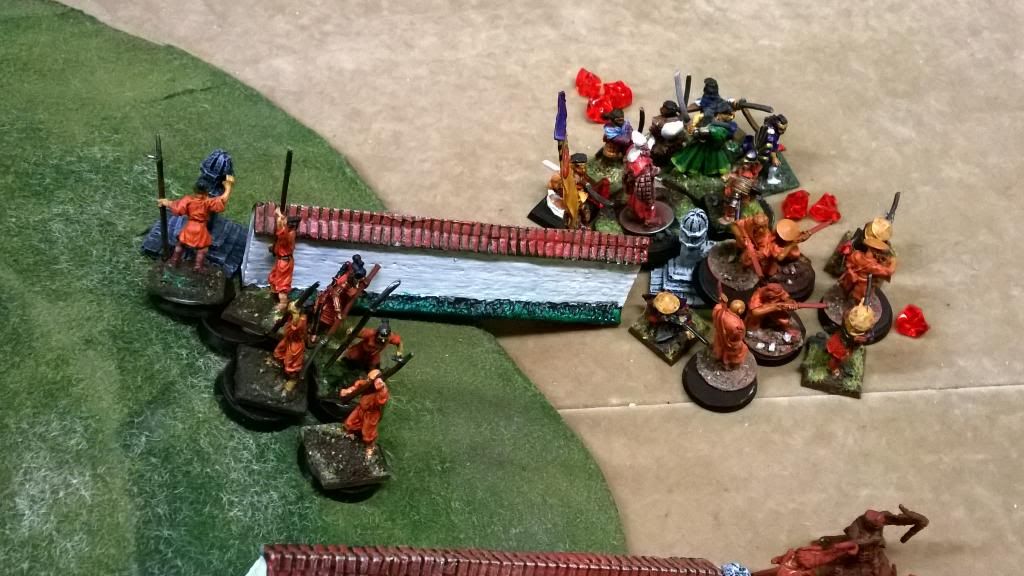 It was no surprise to anyone, that the invincible Sohei WL once again won the melee.
Soon Samurai WL found himself standing alone against sohei, whom promptly made short work of him with their naginatas: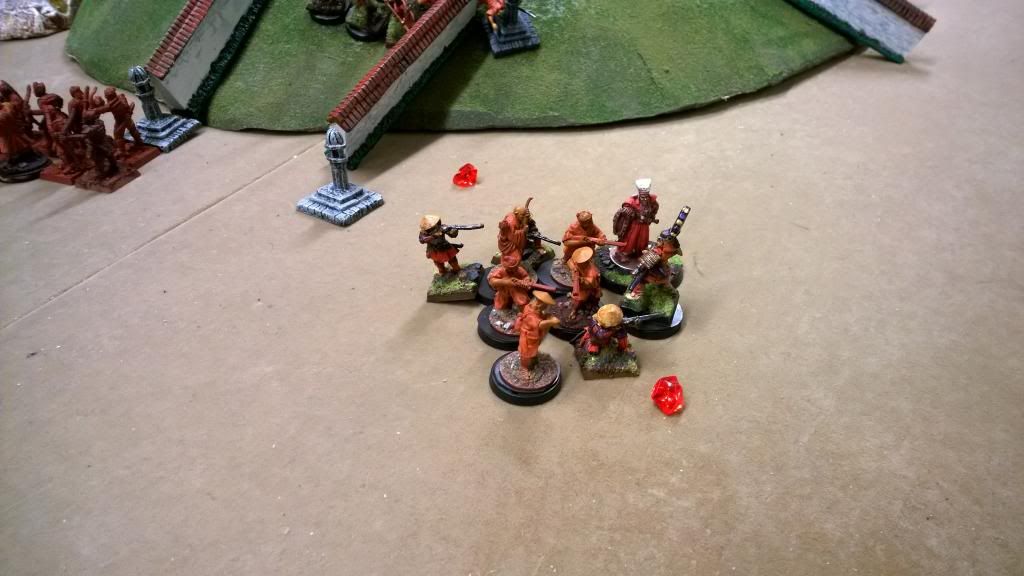 In the meanwhile Ashigaru recruit archers made a grave error by exhausting themselves by shooting one ninja (leaving just one ninja on the table), which meant that they couldn't be activated to loot the shrine. So long 10 VP!
Round 7 was coming to a close, but the last ninja taunted the Sohei WL to charge him – a final change to complete at least one of the ninja missions, but as you might already guess, it was not to be.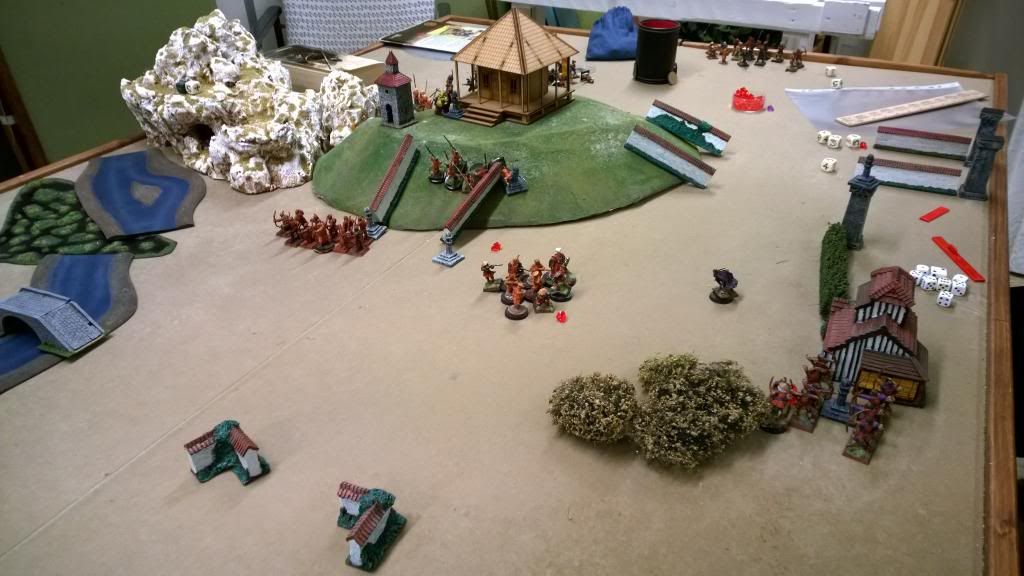 Game ended with the warlord and his henchmen whooping some last ashigaru, while Teemu was already packing the terrain away. Big thanks to Mikko K-S for lending his terrain pieces.
Final score was:
Ninjas: 11 points (at least the Samurai WL was killed)
Samurai: 21 points (one shrine looted, WL didn't do too much killing)
Sohei: a lot more points (killed a lot of ninjas and protected the pagoda hill) – A CLEAR WINNER!